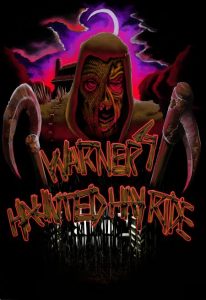 In October join us as we bring our haunted forest back from the dead. The ride will have you on the edge of your seat as you journey through 50 acres of haunted forest with terrifying displays and live actors that will be sure to 'jolt' you off your seat.
During the Halloween season enjoy the fright and delight of our Haunted Hayride in the last 3 week-ends of October.
First ride goes out at 7:00 pm with the last ride departing at 10:45 pm.
Haunted hayride lasts approximately 30 minutes and takes you through 50 acres of haunted forest.
Haunted hay rides are covered and run rain or moonshine.
Infants are not allowed on the hayride.
LIVE actors line the route. You may be touched during the hay ride.
Reservations not required.
Could be Frightening!!! Not recommended for young children. Parents are strongly cautioned. The haunted hayrides are interactive and something may touch you, if this offends you – DO NOT ENTER
October 2018 Dates
See you in October 2018
Venture through our haunted forest in Niagara, if you dare…
Haunted Hay Ride Admission:
Adults – $15.00 Children 12 and under – $10.00.